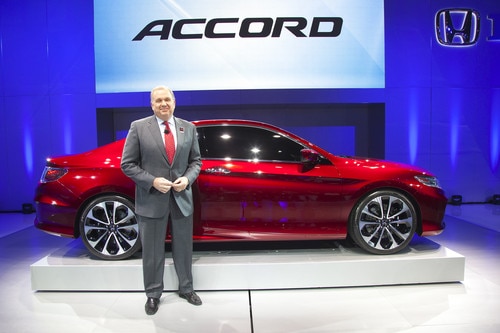 It's no secret that every time
Honda
shows us something new on the auto show stage, they don't leave much to the imagination, and the same can be said for the 2013 Accord Concept. This "concept" vehicle showcases not only the new Accord styling, but it also shows us what's ahead in terms of safety and performance for all
Honda vehicles
in the next couple years. To say the least, there's some very exciting technology coming from the
Honda
toolshed.
While some of the technology showcased at Honda's press event today in Detroit, it is certainly new to this class of vehicle - the non-luxury midsize segment. Lane departure warning systems will become available on all Honda vehicles in the near future, starting with the 2013 Accord. Also making its debut on the Accord this fall will be an industry first - a blind-spot camera system that not only audibly warns you that a vehicle has entered your blind-spot, but it will actually display an image of that vehicle on your navigation screen - something we've never seen before from any automaker at any price point.
Power will come from three engine/transmission choices in the new
Accord
. There's an all-new, Earth Dreams 2.4L inline four cylinder available with either a six-speed manual transmission or all-new CVT (that is tuned for fun and efficiency - it's not the same CVT in the Insight), a V6 that can be had with either a six-speed manual or new six-speed automatic. The third option is the one that's undoubtedly the most interesting - for the first time in a
Honda
- the new
Accord
will offer a plug-in hybrid powertrain that's good for up to an estimated 15 miles of pure electric drive. That's one of three modes offered by this unique system, as Direct Drive (gasoline) and full hybrid (gasoline-electric) modes are also available.
Although no official on-sale date has been announced for the new 2013 Accord, Honda says that this exciting new, 9th generation model will be available this fall. For more information on the
Honda lineup
or on the 2012 Accord, please visit our dealership website, at
www.stlouishonda.com
.