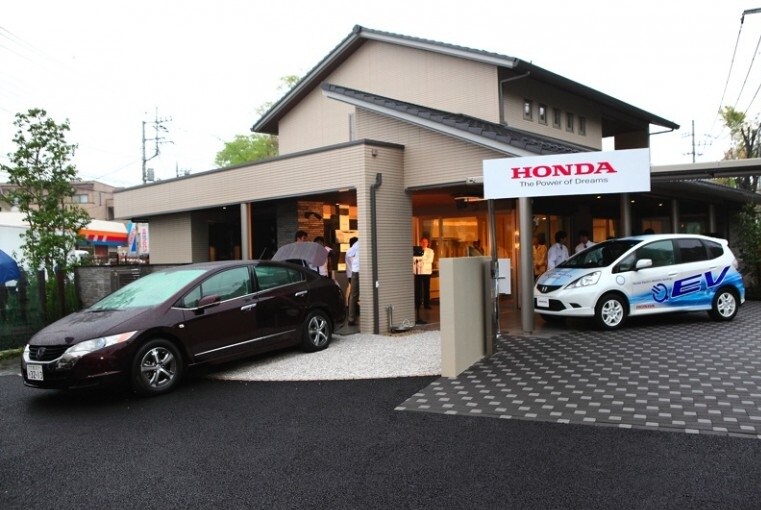 Honda's tagline "The Power of Dreams" couldn't be more accurate - they've managed to build a house that isn't powered by much else. While the
Honda
Smart Home concept places an emphasis on capturing solar energy, which is nothing new these days, Honda's system is a complete package that includes special solar panels, a gas motor (you read that correctly - more on that in a minute), a giant rechargeable battery,
EV
(electric vehicle) backup power capability, and a smart control module to tie it all together. The system provides combined power generation and heat recovery efficiencies of up to 92 percent - imagine only consuming as little as eight percent of the power you use today!
The
Honda
Smart Home System (or HSHS for short) has the ability to actually produce a good amount of its own energy by way of its solar panel array made up of high-efficiency, thin-film CIGS (a combination of copper, indium, gallium, and selenium) cells. In addition to these solar cells, the home also has its own combustion engine. While this
engine
is primarily designed to run on city gas (natural gas) it has the ability to run on petroleum gasoline too - offering even more flexibility (not that running your house on dino juice would be cheap these days, but hey - you can do it if you really wanted to). Energy that is created by the solar panels and the gas engine is sent to the Smart e Mix Manager, which is like the home's brain. The system keeps track of where of all the home's energy comes from, and either puts that energy into direct use, or stores it for later in the rechargeable Home Battery Unit. If this house sounds like a
hybrid vehicle
to you, that's because it works on similar principles.
The system can be monitored basically with an app, executable on iOS devices like the iPad and iPhone.