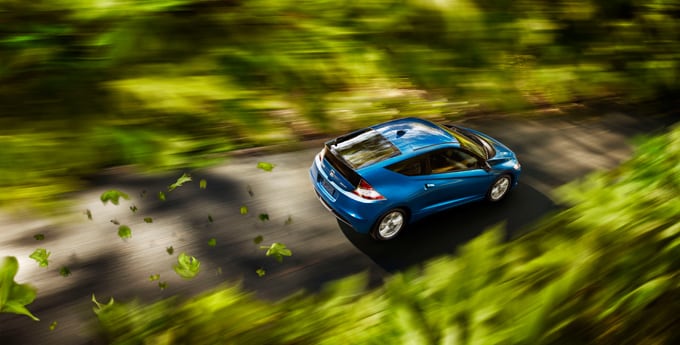 In the mid 1980's,
Honda
introduced us to the
CRX
, which was essentially a two-seat hatchback version of the
Civic
. It didn't have much power, but because the car didn't really weigh anything, it was still a blast to drive. Through the rest of the 80's and into the 90's, the
CRX
carried a cult-like following that was renewed in the early 2000's as import tuning became all-the-rage. Kids were paying twice as much as they should have for old CRX's with tons of miles on them just so that they could yank the motor out and replace it with a B16A out of the JDM
Honda Civic Type R
of the day. Literally, for around $10,000 - you could have yourself a track-worthy car.
For 2011,
Honda
brought back the magic with the
CR-Z
. It's a two seat sports coupe with an eco-twist. Quite frankly, if you've ever wanted a sports car but need something more economical, this car's for you. Likewise, the same applies for any enthusiast out there who has never considered a
hybrid
before, thanks to the
CR-Z
's standard 6-speed manual transmission, or available CVT with seven faux gear ratios, selectable via steering wheel mounted paddle shifters. The
CR-Z
is light weight and peppy, and comes standard with a three-mode-drive system that allows the driver to select between individual modes of performance for Sport, Normal, and Economy driving styles. Truthfully, you'll spend most of your time in either Normal or Sport modes. The Economy mode isn't bad for highway cruising, but it significantly retards the throttle response.
Outside, the
CR-Z
comes standard with projector halogen headlights and 16" inch alloy wheels, but on EX models, you get fog lights, High-Intensity-Discharge (HID) headlights, mirror-integrated turn signal indicators, and available 17" wheels. Inside, the
CR-Z
is surprisingly spacious and accommodating - so much so, that in Europe and Asia, it's sold as a 2+2 sports coupe. For whatever reason, North Americans don't get a rear seat - instead, we've traded lunches with the rest of the world and have received a storage shelf instead. Not a bad trade, especially if your friends tend to drive themselves anyway. Other than that, there's a 160-watt stereo system with iPod hookup, innovative cloth seating surfaces and good overall material quality. On Crystal Black Pearl
CR-Z
s, buyers also receive an exclusive black interior, as opposed to the gray interior available on other
CR-Z
's.
Bottom line: If you want a fun and engaging driving experience, but you don't want to kill polar bears doing it, the
CR-Z
offers the best of both worlds. Come into
Mungenast St. Louis Honda
for a test drive of the CR-Z. You may not want to leave without one!
Source - Honda